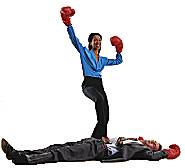 Benefit From Our Expertise!
BUSINESS SERVICES INCLUDE:
Streamline your business operations
Improve efficiency and productivity
Achieve business goals
Design appropriate systems for businesses by business owners
Customize Information Security Programs
PERSONAL/IN-HOME SERVICES INCLUDE:
Save you time and energy
Reduce frustration and confusion
Keep you organized
Make better use of your computer
Become computer literate
Reduce fear
Increase adults' "employable skills"
Teach children to be proficient on the computer
Prepare for the future
CONSULTATIONS INCLUDE:
Evaluating your system for the most recent software versions, including bug fixes, virus protection, and data encryption.
Optimizing your current hardware configuration, and suggesting upgrades in enable your system to run at top speed.